What To Do in Grand Cayman On A Cruise
Wednesday, December 09, 2015
If you've ever been on a cruise, you probably know that it's a fantastic way to travel and there are many positives to this type of vacation. The only downfall that I can think of is the limited amount of time that you have to explore each destination. (Shameless plug: If you're interested in booking a cruise, check out my booking site
Live Simple, Travel Well Vacations
)
I always try to plan ahead to make sure we get to see the attractions that top our lists. We'll be heading to Grand Cayman and
Cozumel
on a Carnival cruise next month. It'll be my son's first cruise, but my mine and my husband's third. None of us have been to either place before, however seeing much of this destination is going to be tough. We will only be in port between 7am and 3pm! That's the shortest amount of time we've ever had in port.
Grand Cayman is a tender port, which means that the cruise ship will dock offshore and smaller boats will take you to the island. This will cut into some of the time we have on land as well.
The way I figure it, we will probably have about 6 hours to discover Grand Cayman, which to me, means that we'll probably make it a beach day considering they have arguably one of the most beautiful beaches in the world.
7 Mile Beach
Grand Cayman is home to the 7 mile beach (even though it's really only a little over 5 miles long). You can take a taxi there for $5/pp each way, or better yet, get a feel for the local culture and take the bus (which are really white vans). It's half the price ($2.50pp) and you'll be able to mingle with the locals and get a feel for how life is there rather than taking the taxi.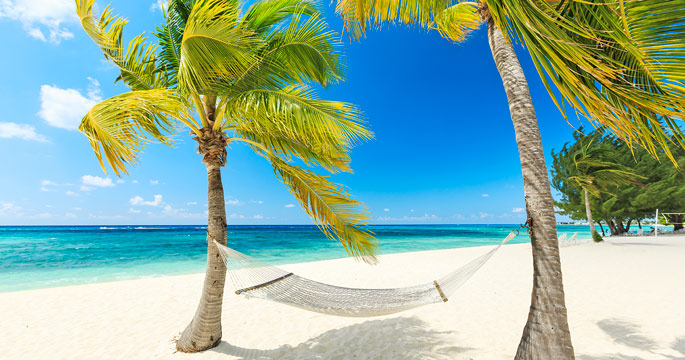 image from tropixtraveler.com
UPDATE:
This is exactly what we ended up doing. Taking the bus to 7 mile beach. Only, don't call it that to get a ride there. As it is 7 (okay 5) miles long, each area of the beach has a different name. The place we went to (called Public Beach- this is where you ask them to take you, not "7 mile beach") wasn't too crowded and it had bathroom/ changing facilities. The waves were strong enough to throw us around right up against the beach area (which my son had a blast with, lol), but go in a little bit and it was fine. I was surprised to find out that the sand itself, was a little rough and painful at times. The beach is beautiful though. We had a great day playing in the water and finding sea glass, shells, and other cool things! Here are a few pics:
I love this picture I took through some bushes!
Look at that water!
I think we need this sign on all beaches :)
We found tons of sea glass!
The sand, like I said though, was kind of rough and painful at times. It was also hard to walk in as I kept sinking in to the sand closer to the water, lol. I wish I had brought some sort of water shoes like these.
Something to remember for our next trip there, lol.
Turtle Farm
The other option that I'm considering would be to go to their
turtle farm
. Now, we have turtles roaming about where we live in SC, but this place looks pretty cool. We would be able to do it in our time frame, it will hold my son's attention, and it's pretty unique.
The full grown turtles weigh up to 500lbs. They have touch tanks and even wading pools where you can get in and get up close to the turtles.
They also have a 9 foot long crocodile named Smiley, that is fun to watch at feeding times.
You can also find an education center and a turtle hatchery. The turtle farm has released thousands of turtles back into the wild. (Smiley the crocodile was found to be a hybrid species and therefore it was not ethical to release her back into the wild, so they chose to keep her safe at the turtle farm).
If you get hungry there is a bar and grill area along with a gift shop as well. You can get access to all this for $18 adults $9 children 2-12.
Or, you can also get the Adventure Pass which gives you all of the above, plus access to Breakers Lagoon which is the largest pool on the island. It has two waterfalls and a huge twisting water slide.
You can also find an underwater predator viewing area that houses sharks and other creatures of the deep. There's a turtle lagoon where you can get in and swim with the turtles, a blue hole nature trail, and Cayman Street where you can see all of the old Cayman architecture. This is a great deal at $45/adult and $25/child. If you
order online
, you also get 20% off. (
Prices correct at the time of initial writing. Always check the website first for most up to date information)
Stingray City
Stingray City
is another popular place with tourists. Here, they have many large stingrays in about 3-4 feet of water that you can swim with, touch, even kiss them if you want! Not really for me. I've seen stingrays here on the beach where I live and I definitely don't want to be that close to them.....especially huge ones like these. All I can think about is that's how the Crocodile Hunter passed away. I think I'll steer clear of this place....but don't let my fears stop you! So many people have said it's the best thing they've done on an island and would do it again in a heartbeat. So if you're the type that lives on the edge, come swim and pet the sting rays!
Come back and tell me all about it and I'll live vicariously through you while squirming over here in my seat, lol!
Fat Fish has a great
jet ski tour
that incorporates Stingray City and snorkeling.
Let's see how big these are compared to a person, shall we?
photo from ebaumsworld.com
Um, yup.....I'll be hiding here, while you tell me all about it! lol.
Hell
Grand Cayman also has a place called Hell. Honestly, it seems mostly like a tourist trap. It's essentially a place with a large group of limestone formations that seems to be what people may envision Hell to look like. There isn't much else there except for a gift shop. Many tours do stop here and it might be worth a look if you were going to check out some other places on the tour as well, but from reading other reviews and doing some research, I wouldn't really seek this place out. However, they do have a post office there where you can send someone back home a postcard from "Hell". Now that might be fun to do, lol.
Grand Cayman is also known for their rum cakes. I keep hearing about these and will definitely make a stop to buy some before we get back on the ship!
Have you been to Grand Cayman? Is there anything else that is great to check out while only there for a short period of time? Does anyone know some great restaurants that are close to port?
Ever wonder what it's like to take a Carnival cruise? Check out our
Carnival Sensation cruise review
to the Bahamas or check out some fun things to do in
Nassau
!